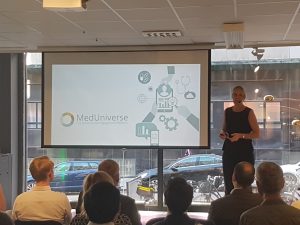 CEO and Founding Partner, Anna Omstedt, was pitching MedUniverse to a large audience of Health-tech Investors at the Health Investor Meet and Mingle. At the event, co-sponsored by Invest Stockholm and H2 Health Hub, the atmosphere was inspiring as different companies shared their innovations and business ideas to improve Healthcare.
Northzone's Marta Sjögren was the moderator of the event. The pitches were then followed up with a round of speed meetings with the potential investors.
MedUniverse is excited to be changing how the Pharmaceutical Industry engages with Healthcare Professionals using Patient Cases on a global scale.
#MedUniverse #HealthTech #SthlmTech #InvestSthlm #InvestinStockholm #H2HealthHub